This is a bit of a different type of entry. On Facebook, this meme has been going around, it goes like this: "I've been nominated to post an album a day for 10 days by my friend Nikki to post my all time favorite or influential albums. What really made an impact and is still on your rotation list, even if only now and then. Post the cover, no need to explain particularly and nominate a person each day to do the same." Ignoring the awful grammar of the actual meme prompt, I thought it'd be fun just to post all ten albums on my blog because the only thing I like as much as reading is music.
Now see I don't know who actually reads this aside from possibly my friend Patricia and my BFFL Hillary, so if they want to do this, they're more than welcome to do this, so are any strangers who happen to come across my blog in a google search or whatever, or anybody else who happens to stumble across this blog whether I know them in real life or not.
I love music though my music upbringing came sort of late. I was raised on classic rock- think The Beatles, Cream, and The Rolling Stones- and Broadway show-tunes especially the shows that were popular in the late 80s like Les Miserables, Phantom of the Opera, and Cats [though Jesus Christ Superstar will forever be my favorite, I still want to be the first female Judas in a Broadway production of it]. I was also raised on Gilbert & Sullivan operettas. The HMS Pinafore and Pirates of Penzance are my favorite.
I remember being in 6th grade, and I was in choir, and we were trying to figure out what to sing for the winter concert [which actually never happened because there was a shit ton of snow that year and most of December was canceled and they never picked a make-up date for the concert and we eventually just moved onto the Spring show song choices], and our choir teacher, Ms. Crawford asked us to list artists and bands that we liked. I'm sure normal middle school children put things like Mariah Carey and Bryan Adams, but no, I put different opera singers and Broadway singers.
I didn't really come into my own musically until 1996. That was when we finally got cable TV, got MTV, and MTV actually played videos, I got a stereo in my room that had actual radio stations, and I sort of discovered myself musically. So sure I got a late start musically speaking, but I made up for it, since those days, I've seen close to 300 bands in concerts [I used to have an actual list of all the concerts and bands I had seen, I posted it on my MySpace and updated it after every show, but then my ex broke up with me and I deleted my MySpace out of rage, and lost the list, to this day, I don't regret breaking up with my ex after all things happen for  a reason, but I do regret not keeping a copy of that list], and I've never stopped listening to music ever since.
So here you do, my top 10 albums, though these are not the ONLY albums that I consider to be important or influential to me. But these have some of the most memories attached to them.
[In no particular order except by the date they came out]
1. 
The Best of the Doors– The Doors
Release Date: 1985
I need some sort of shout-out to my classic rock roots, and I think I'll choose The Doors for that. I went through a phase during senior year in high school when I was OBSESSED with Jim Morrison and The Doors. I took American History 2 during my senior year of high school, which basically covered history from the 1920s to current, and I was really into the hippie culture and the anti-Vietnam stance.  I even did my senior presentation on Jim Morrison and The Doors and how he influenced the music and lifestyle of that time period [and I got an A, I'd like to add].I seriously think that I would've been super happy living in the 6os and the 70s and going to Woodstock and festivals like that. To me, Jim Morrison and the music of The Doors, epitomized the late 60s/Early 70s antiwar culture. I read every single book I could find on Jim Morrison, I looked up old articles about Jim Morrison and The Doors from magazines like Rolling Stone at the library and made copies of them, and I was just OBSESSED with The Doors and Jim Morrison and all their music. I played the shit out of this album. Long Live the Lizard King.
One of the more well known songs from it:
2.
Metallica [aka The Black Album]– Metallica
Release Date: 1991
My first introduction to Metallica was in 1996 right when we finally got MTV. They actually used the show the top ten video countdown every night and this was before Carson Daily's TRL. Metallica release the album "Load" at that time, and I was OBSESSED with the song "Until It Sleeps" and from there I made it my personal mission to buy every single Metallica album that had come out. Out of all their albums, The Black Album probably got the most play. [Closely followed by Ride the Lightning and "Fade to Black"].  It has so many amazing songs that Metallica are known for such as Enter Sandman [I mean, who doesn't know that song?], Sad But True, The Unforgiven [I like Unforgiven II also, but Unforgiven III was a sack of shit], Wherever I may Roam, and Nothing Else Matters. Justin and I even had our first dance at our wedding to "Nothing Else Matters" but Apocalyptica's cover. I saw Metallica in concert back in 2007, when I still lived in NJ, and they were amazing. They didn't play "Fade to Black" and I will one day hear that song live, I swear, but they were mesmerizing, it wasn't even a concert, it was more like a religious experience. My newfound love for Metallica in 1996 was probably one of the first times I realized that I was more a rocker chick, than a pop princess.
One of the more famous singles, as well as one of my favorites from the album:
3.
Siamese Dream– Smashing Pumpkins
Release Date– 1993
The first time I ever heard Disarm by the Smashing Pumpkins on the radio, it was like my world shut off, and I was just engrossed in the beauty of the song. This song has been my favorite song for years. After hearing that song, I became utterly obsessed with it. Notwithstanding, this is one of my favorite Smashing Pumpkins albums, not only does it have "Disarm" on it, it also has "Today", which is one of their most well-known singles, "Cherub Rock", which was also pretty popular, and then "Soma" which is highly underrated and hauntingly beautiful, as well. Smashing Pumpkins were probably one of the first alternative bands I liked. I remember having a sleepover for one of my birthdays, and in NYC/NJ we had this radio station called Z100 and before Z100 became the pop party that it is today, it actually used to play rock music. I called up the DJ and requested to play Disarm on the radio, it was like 11 pm, and it might've been my 14th birthday. First the DJ asked why I was up so late and I told him it was my birthday and he asked what I wanted for my birthday, and I told him I wanted him to play Disarm for my birthday. He did and I totally got on the radio. It was the only time I ever got on the radio. Disarm still occupies every single playlist and mixed CD I make.
Of course, the video for this album has to be Disarm:
4.
Mechanical Animals– Marilyn Manson
Release Date– 1998
During my sophomore year of college I roomed with one of my best friends, Amanda, for a semester. It was the best semester ever. We drank a lot of soda [Code Red Mountain Dew for me and Diet Coke for her, our room was littered with those boxes], played a lot of Super Mario World for SNES [Playstation was out by then, but I just brought my SNES to college], played pranks on the immature underclassmen in our hallway [Nothing too mean, Amanda was very artistic and liked to change around the door decorations, she once turned an umbrella into a chicken], played Sims 1, and listened to a lot of music. This was constantly on rotation in our dorm room, we both loved it. I initially didn't like Antichrist Superstar when it came out, but something about the style of MA was aesthetically pleasing for me, I really loved the shift from a song like "Beautiful People" to a song like "Disassociative" or "Coma White." We listened to this album constantly. I would also drive back and fourth between the university and an ex's house who lived nearby, and at night in Pennsylvania, in the wee hours of the morning like one and two am, the highways and back-roads would be filled with fog, I'd play this album,and the music would be the perfect soundtrack for my drive when I was the only car on the road for miles. I would say this is the album that made me a Manson fan. I've seen Manson in concert probably close to ten times, the last time I saw him was in 2012, when he came to Houston, but he was so drunk and forgot most of the words to the songs and slurred the lyrics he did know, that it was a depressing show, though during the Golden Age of Grotesque age, he was amazing live. I still play this album. This is my album when I'm in a sad and/or melancholy mood. I think this is one of Marilyn Manson's best albums.
We'll go with Coma White because I think it's one of the better singles from the album.
5.
Californication– Red Hot Chili Peppers
Release Date– 1999
This was my album during senior year of high school. Everywhere we went we'd be blasting this album. We would drive to NYC with this album blasting, We'd drive to Starbucks with this album blasting, and we'd drive to and from School with this album blasting. In the the world before MP3 Players, this album was always in our discmans. My best friend Cat and I absolutely loved this album. We knew every single lyric from it. If I made a movie about my life, something from this album would have to be on it. For that reason alone, this album is on my list.
I saw RHCP in concert once in college [or maybe it was post-college, I don't remember, this is why I miss that list I mentioned]. They put on a great show. Unfortunately, I don't personally think their current music is as good as their old music, hence why I haven't listened to them in years. But this album is an amazing album and was pretty epic at the time.
My favorite single was always "Other Side", and Cat and I made a really dirty parody of it once when we were bored during a track meet in high school. One of our lyrics was "I'll take it up the other side." [and yes I still remember most of our lyrics for it]
6.
Mer De Noms– A Perfect Circle
Release Date: May 23rd, 2000
I hate Tool. I saw them in concert in 2001 and they were awful. The entire venue was dark, the stage was engulfed in darkness, and there was absolutely no light, the only light was on top of the stage, where there was basically an acrobat show with aerialists and they performed an aerial performance to the backdrop of psychedelic videos. That being said A Perfect Circle > Tool. This album is full of amazing songs, in fact, it's one of the few music albums I can actually listen to all the way through without wanting to skip a track. It's also one of my favorite late-night road trip albums. I saw APC in concert, in 2003, when they were touring to support Thirteenth Step [which has some great songs, but overall I think Mer De Noms is the better album] and it was an amazing show. When I used to drive up to Northeastern PA to visit my BF B, and I'd be on the road at odd hours, and driving through some very secluded highways, this is one of the albums I constantly listened to.
Three Libras because my other favorite songs don't have videos
7.
Something Like Human– Fuel
Release Date: September 19th, 2000
If Mechanical Animals by Marilyn Manson was the album of my sophomore year of college, Something Like Human was the soundtrack to my freshman year of college but I couldn't tell you why. I remember being in my dorm room, probably the first week of freshman year, and seeing the video for Hemorrhage in my Hands play on MTV and from there I just became obsessed with it and with this album. This album is actually full of some pretty awesome singles that still get lots of play by me: "Last Time", "Hemorrhage in my Hands", "Bad Day", and "Innocent."
I saw Fuel in concert once, and when they played all the singles from this album I went pretty crazy. They put on a great show.
Has to be Hemorrhage:
8.
Poets and Madmen– Savatage
Release Date: 2001
This is actually a newer addition to my list. The album isn't exactly a newer album, but I didn't really get into it until 2014. Justin has always loved Savatage, I think they're one of his favorite bands. They're a progressive rock band that is no longer together, and they recorded a bunch of concept albums. After Savatage broke up they actually became a band most people have heard of: Trans-Siberian Orchestra, and their song from Dead Winter Dead- Christmas Eve Sarajevo became TSO's greatest hit. But anyways before they were TSO, they were Savatage, and there was Poets and Madmen, which was also the last album they ever released.
In 2014, I got diagnosed with uterine cancer. I won't get into the nitty-gritty details of that, the most I'll say is that ladies if you notice something strange about your girly parts, please make sure you get it checked out, don't fuck with it. I got diagnosed very early with uterine cancer, it wasn't even a stage one, it was stage zero [there's an actual medical name for that, but I don't remember it]. To  get rid of uterine cancer, you get a hysterectomy. Justin and I weren't even married yet when I got diagnosed with cancer, I was extremely young to be diagnosed with uterine cancer, but regardless, the end result is, I had to get a hysterectomy and I can't ever carry biological children.  Before my hysterectomy, Justin and I went through IVF and we managed to get one frozen embryo before they had to do my surgery. We're currently in the process of trying to hatch Baby Z, but it's an expensive process, and affording it is going to be a challenge.
Anyhow I was so angry when I got my cancer diagnosis and had to get a hysterectomy. So fucking pissed off. This album was my saving grace. The songs on this album reflected on my anger perfectly, and I listened to is constantly. It helped me get through the cancer, it helped me fight the cancer.
I'm happy to say that as of last week I've been four years cancer-free, and my anger has gotten slightly better, but it's still hard for me when people announce they're pregnant, and I don't like to go to baby showers because I find them triggering. But during those hard times, this album still helps me get through them.
Morphine Child [there really aren't any music videos for this album, so here's just a music video with no video just music]
9.
Dark Light– HIM
Release Date– 2005
This is actually not my favorite HIM album, I think that would probably be Razorblade Romance, but this album is the album that got me into HIM and started my obsession and love for their music and Ville Valo.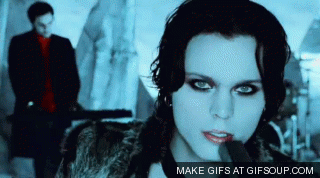 I saw the video for "Wings of a Butterfly" in 2005, when MTV still sort of played videos, and I liked it. The very next day, I went to Sam Goody and bought the album, and liked a good majority of the songs on it. Every day, after that, I would buy a new HIM album until I owned every single album they had ever released, I even ordered some international releases from amazon because I had to have them all. HIM is probably the first band I really got obsessed with on my own, and even got some other friends of mine to join in with my obsession. I love their music [and Ville Valo] and I'm pretty sure that ever single song by them on my iTunes has close to over 1000 plays. I constantly listen to them. I liked them before it became cool to like them… you know when Bam Margera was obsessed with them in Viva La Bam. My entire bedroom was covered in Ville Valo posters. I was a member of the HIM Heartagram Fan Club and before concerts, I would be sent promotional materials in the mail to distribute to people to promote the show. I even contemplated getting heartagram tattoos on my wrists because I loved them and the band so much [I didn't]. I've seen HIM in concert over ten times, probably close to 20 times. The videos I made at their concerts are all over my YouTube account. I would take photos of the band at their shows and post them all over the fan blogs on the internet to show everyone. I went to their farewell tour in November, and was sad to see their career end, but at least I'll always have my music. I'm going to Helsinki this summer and am still contemplating trying to find out where Ville Valo lives and professing my underlying love for him [just kidding, I wouldn't]. HIM are probably my favorite band.
Wings of a Butterfly because it did it for me, maybe it'll do it for you:
10.
The Resistance– Muse
Release Date– 2009
I don't really like most "modern" music. I think the majority of what's played on the radio is absolute shit. There are some exceptions though, and Muse, especially this album are one of them. Uprising was my fucking jam for most of 2009 to 2010, closely followed by Undisclosed Desires, which was also on this album, I listened to them both basically on a daily basis, and when I went to Israel for Birthright in June 2010, those two songs were the first two songs I always chose to listen to on my playlists. I chose this album just as an example of some of the more current music I like when compared to the other music on my list. I actually saw Muse in concert when they opened for U2 in 2009, and my crappy ass video of Uprising, which is mostly a video of the video they played at Giants Stadium taken with a crap digital camera is still my most-played video on my youtube [closely followed by Poison Girl by HIM, though at least that video is somewhat quality]. I think Muse is a great band, and one of the few current bands that actually have an original sound [Cage the Elephant are another]. I saw Muse in concert in 2015 when they came to Houston, and they put on a great fucking show.
Here is Uprising [still my jam, almost 10 years later]
So there you have it, my 10 Most Influential Albums, though like I said, I can list way more than 10 Influential Albums, I mean we didn't even touch on my obsession with grunge, my slight love for industrial, or Linkin Park in this post!
If anyone else does this, please feel free to link me to yours, or if you have any comments, feel free to leave them.