I originally bought this book because I was hoping to reminisce about my honeymoon back in 2015. Well that, and I'm a sucker for fictional books about camping.
This book is about a girl named Lacey, who lives somewhere near the Rocky Mountains [which to my brain read Rocky Mountain National Park] in Blue Jay, Colorado. Her family owns a camping resort that tourists flock to. Lacey knows that the only time she can ever meet cute guys is over the summer because apparently Blue Jay, Colorado is reminiscent of a nunnery and there are lots of local girls mentioned, but barely local guys.  However, apparently the summer guys are all freaking hot.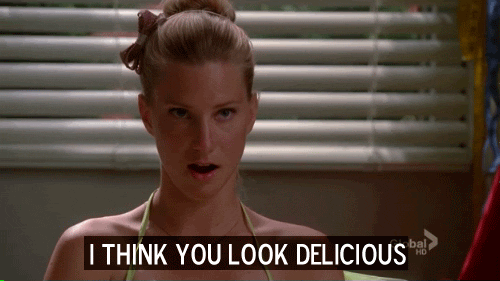 But Lacey doesn't want to fall for a summer guy. She's been there, done that [well not DONE THAT, if you get what I'm implying], and then regretted it for an entire year. So fuck guys.
Then she meets Landon Tillman. Landon is a popular YouTube vlogger, whose family travels all around the United States, lives in a motor home, and pots videos on YouTube and they're like internet celebrities. Landon is nursing a broken heart.
Landon's mom and Lacey's mom really hit it off, they're like sisters from another mister, and decide that they need to get set up their single daughter and newly single son and keep pushing the two together. Eventually Lacey and Landon get sick of it and decide to pretend they're dating, so people get off their backs. But you know… to be a convincing couple, they need to make it look real… AND FUCK WHAT IF ONE OF THEM DEVELOPS FEELINGS FOR THE OTHER??? Since that's how all teen lit novels seem to work.
This wasn't an awful story. It was an average story. It was your typical teen summer romance book. It was well-written. Landon and Lacey weren't despicable characters or anything.
I like how the author made Landon's family popular YouTube vloggers because that's seriously a thing now [and why can't i quit teaching and just travel around in an RV making YouTube videos for a living? No fair!], as is people homeschooling their children and taking them around the United States in RVs for an education. I've actually found a lot of blogs of families like that when doing research for my own National Park road trips.  Why couldn't my parents do that? It would've been way less traumatic than high school!
I liked the setting of the story. I love the outdoors, and camping, and this entire book basically takes place at camping resort in a touristy town that seems slightly reminiscent of Estes Park, Colorado, which is basically the gateway to Rocky Mountain National Park, and during our honeymoon when we drove through it, it reminded me of Lake George, NY, as well, which is where I spent all my summers growing up.
[Estes Park as taken from the internet]
[Two of my pictures from Rocky Mountain National Park]
I thought the story was more believable than other teen romances I've read.
I mean Landon and Lacey "fall" for each other pretty quickly, and that seems completely unrealistic to me, but I suppose to a teenager, maybe it is realistic? I mean I remember being at sleep-away camp and the girls who had boyfriends were basically like a day is a week, a week is a month, and a month is a year, when it came to the timeline for relationships in sleep-away camp, and now that I'm older, time goes a lot faster than it did when I was a teenager, so maybe I am overcritical of the sudden love affairs that always happen in these novels just because I'm old.
But they didn't just suddenly fall in love like that, there was an actual lead-up that led to their romance, regardless if it's fake or not. There was character development and the timeline seemed more realistic than other summer romance novels I've read.
In conclusion, this was a cute summery romantic read. It's not the best book you'll ever read. It's probably not even the best summer romance that you'll ever read, but it was a cute book. I have no qualms with it really. There are people who really like summer romance novels, if you're one of them, you'll probably really like this book. It was quick and short read too, granted I have a superhuman reading speed, but I got through it in maybe an hour, so I'm sure an average person could breeze through this in under a day, as well. I really wish I could find books that take me more than a day to read.
The one thing I wish is that it was a little longer. It was barely 200 pages long. I think a longer page length would have made this story much better. I find authors really seem to skimp on pages now-a-days, probably because they just want to get their books out there. I guess I can't really blame them.
Anyhow, in conclusion, this is a short, brief, quick, summer teen romance book, if that's your genre, check it out.